TRACERBOT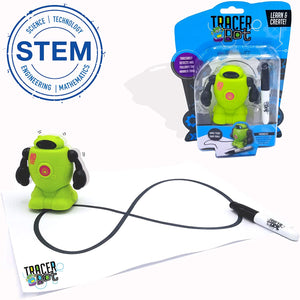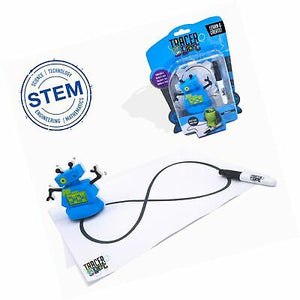 HIGH TECHNOLOGY IN THIS TINY ROBOT:

 

Light sensors help Tracerbot detect and follow the marker trail automatically. Its micro computer tells it what to do without losing track and will follow the line back to the start! Your robot knows where to go!
STEAM EDUCATIONAL KIT FOR YOUR KID:

 

Tracerbot's interactive play helps develop logical/critical thinking and problem solving skills! Design the pathways so the robot can correctly follow the lines with specific orders, loops or patterns, and complete the task! Challenge yourself… and your robot!
MAKE YOUR IMAGINATION COME TRUE:

 

Help the mini robot create a city! Show your creative idea to scheme the map, design the layout and draw routes on blank paper, and let the robot roam in your imaginary world!
SCIENCE IS EASY & FUN:

 

This science toy comes with 4 button batteries, a washable marker, starter paper, and test trail paper. It is durable, small, light and easy to carry. Simply draw a course on blank paper and the smart robot will find the way out!

 

Available in Red, Blue, and Green. Design different challenges for each to see which robot is the best.