SWIRLY WORLD MER-PANDA PRINCESS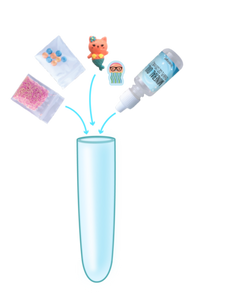 Sorry, this item is out of stock
This clever collectible activity allows you to make your very own light up liquid wand pen!
• Add in microbeads, plastic beads, printed plastic shape and mineral oil and screw the pen shut.
• Watch the Pen Pal swim up the pen as the other elements cascade to the bottom!
• Pen lights up when you press to write! You will want to collect all 4 styles!
Styles are Mer-Kitty, Mer-Panda, Franky Fangs, and Narwhal
WARNING; THIS SET CONTAINS CHEMICALS THAT MAY BE HARMFUL IF SWALLOWED. READ CAUTIONS ON INDIVIDUAL CONTAINERS CAREFULLY. NOT TO BE USED BY CHILDREN EXCEPT UNDER ADULT SUPERVISION.