INFERNO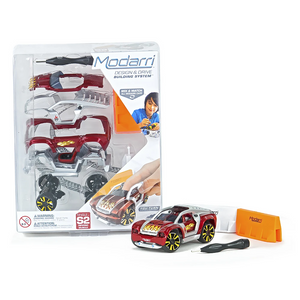 Turn up the heat with the PRO S2 Inferno's mean performance and flame artwork. Use the track barriers to turn any living space into a dream racecourse or drag strip. Road barriers included.

Our Modular Building System has retained screws that won't fall out. Just loosen the screws with the hex tool provided and swap out parts! Modarri PRO's real suspension and finger-steering mechanics puts you in the driver's seat for tight maneuvers like figure eights, without ever having to reposition your hand! It's the ultimate toy car experience!
Includes:
Silver S2 Street Chassis

Red S2 Muscle 

hood

Red S2 Muscle 

Fender
Metallic Silver S2 Muscle Frame
Front and Rear Suspension + Street Wheels
Hex Tool
2 Interlocking Plastic Barriers
NOTE: THIS PRODUCT DOES NOT INCLUDE EXTRA CAR PARTS FOR DESIGNING NEW CARS. WE DO NOT RECOMMEND THIS AS A STARTER SET.